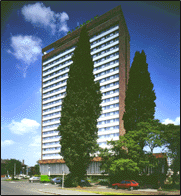 Conference Site
Hotel Olympik
http://www.olympik.cz
Sokolovská 138
Praha 8


Hotel Olympik offers very conveniently connected conference facilities, accommodation, catering and other services.
Athéna - Afrodíta - Hera - Paris - Ikarus
This modern complex of lounges with beautiful decoration in ancient style is situated on the ground floor and can be divided into five sections - three meeting rooms, a foyer, and a big hall. The lounges are reserved for our Photonics Prague 2005 Conference. All five rooms will be flexibly arranged with the sliding walls for our sessions.
Olymp
The Olymp Hall, situated on the 19th floor with an interesting view of Prague and the Prague Castle.